Today a Salesman came to my door, trying to sell a knife set. My thought process went something like this:
Ok. I'm going to get stabbed.
This is how I die.
I'm going to die with greasy hair.
Do I have time to shower before Hannah comes over tonight?
Oh, wait, those knives are actually really cute.
Is it weird to call a knife cute?
I do hate that all of our knives are different colours though. Plus they'd match our pans.
It says $99 on the sticker on the box, I'm not paying that much for my knives to be the same colour.
Oh he's selling them for £10 a box!? What a bargain.
Dammit. I don't have any cash.
He'll definitely stab me for wasting his time now. Great.
Within the space of a couple of minutes I went from being terrified of this man to disappointed that I didn't have any cash. This left me wondering how on Earth did he manage that? So I sat and had a think about things I've learned throughout my degree, perused Google Scholar and this is what I found …
First he used the foot in the door technique, introducing himself and asked about my day.  Foot in the door works by asking for a small thing, then later asking for something bigger. He was friendly and chatty, asking for ten minutes of my time. Once I'd agreed to let him talk to me I felt like I had to listen to everything he had to say, even though I didn't want to buy anything. This technique can be really effective in convincing people to buy things they wouldn't otherwise want – I had been complaining to my other half only an hour before that I spend too much money yet if I had the cash would have bought this set – clearly it works!
Ok so he's got me, I'm listening and don't feel like I can just tell him to go away at this point – what does he do next? He creates a psychological anchor of the price being more expensive by pointing out the sticker on the box that says $99. This creates a cognitive bias that the knives are worth $99, whether I would have paid that for them or not doesn't matter as now I feel as though that's what they're worth. This means that when he hit me with the 'They're only £10 if you buy today' I felt like I was getting an amazing deal and they were really cheap – making me more likely to want to purchase. This then goes hand and hand with the law of reciprocity, once he had offered to be a favour by selling them cheaper he made it harder for me to say so and societal norms dictate its only polite to return a favour. By this point he's got me good, hook line and sinker – I want to buy his stupid knives.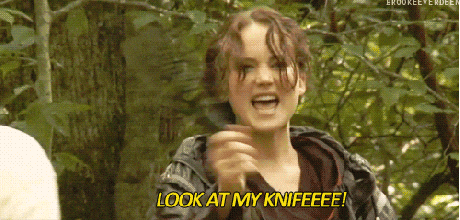 Another technique I suspect he was using was the door in the face technique, which involves making an unreasonably large request so when that is turned down a smaller one is more likely complied with. After saying the knives are $99 he didn't immediately say he's willing to sell them for less today, he explained why they're worth that and gave me the chance to say they're too expensive. Research shows consumers are more likely to agree to a request if a much larger one was just made, so really it wasn't even my fault that I wanted to say yes when he suddenly reduced the price to £10 – it was my brain's!
All in all, I'm actually still disappointed that I didn't have any cash to buy the knives – but not as disappointed as I am with myself for falling for these basic sales tricks …
Pin It
PS. I didn't actually slam the door in his face, but didn't it make a much better title than 'A guy knocked on my door and tried to sell me knives' or 'How do people sell things when they cold call?' ????